About Sally
Sally MacKenzie decided to become a writer in grade school when she read one of her stories to the class. Her classmates laughed and she was hooked. She sat down immediately to pen her first novel.
Well, not exactly.
The hooked part is right—cursed might be a better description—but the sitting down and writing part came later. Much later.
Sally eventually went on to college, majoring in English, and, upon graduation, did what many English majors do—she went to law school. But she still couldn't shake her dream of writing fiction. Midway through law school, she faced the fact that she really did not want to be a lawyer. She took a permanent leave of absence, came home to the Washington, D.C. area, and sat down to type her first novel.
Well, not exactly.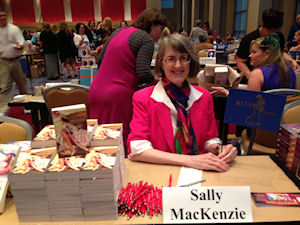 With my RITA® flag before the 2013 RWA® book signing.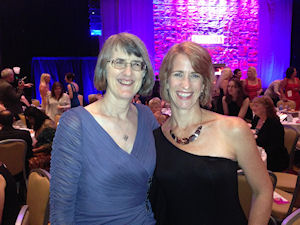 At the 2013 RITA® awards ceremony with my agent, Jessica Faust.
She did come home and write, but mostly she wrote regulations for the United States government's school nutrition programs. (Ketchup as a vegetable, anyone?) When her law school sweetheart graduated, he moved to D.C. and they got married. A couple years later, the first of their four sons was born, and Sally "retired" to manage their family. She wrote a story or two and some picture book texts, all now stored away in a filing cabinet, but she spent most of her energies on baby tending which rapidly evolved into carpool driving. She became an extremely skilled scheduler, getting all four boys to soccer, basketball, baseball, track, swimming, piano, scouts, and birthday parties without ever losing one. (Okay, she did lose the youngest for a few minutes, but she found him before he'd toddled into the parking lot.) And she did more writing—school newsletters, auction programs, class plays, swim league guidance, and the acclaimed annual MacKenzie family newsletter—but no fiction.
Finally, the boys started driving (Eek!) and leaving for college. The nest was emptying and she wasn't getting any younger. The time had come to chase the dream or let it go for good, so she sat down at the computer and wrote. And rewrote. And rewrote again until she had a polished manuscript. She joined the Romance Writers of America, and when the plea went out for Regency manuscripts for the 2004 Golden Heart contest, she sent in The Naked Duke. The stars aligned. She made the final round, and one of the judging editors liked the manuscript and offered to buy it.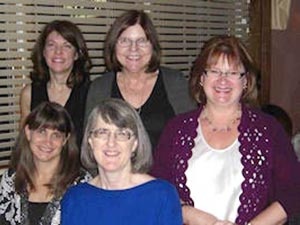 At dinner after the NJRWA conference with (l. to r.), Alexa Egan, Melinda Leigh, Diane Gaston, and Nancy Herkness.
Hiking on Easdon Tor in Dartmoor, England.
Yippee!
When not at her keyboard or staring into space musing on her next story, Sally can be found at the gym or in the middle lane of her Masters swim practice, trying to keep all her moving parts working. She loves to travel, particularly to England where she drags her poor husband to historic sites in the name of research or—as he puts it—to look at spoons. But since she also enjoys hiking over the English countryside, he remains relatively content. Sadly she doesn't cook (but her husband does!) or clean, but she has good intentions...sort of.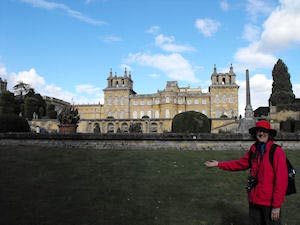 Visiting Blenheim Palace, Oxfordshire, England.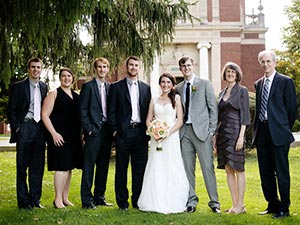 Here's Sally with her family at her third son's (second son to get married) wedding.
Press Kit
USA Today bestselling author Sally MacKenzie writes funny, sexy romances set in her favorite time period (other than the present): Regency England. "The Duchess of Love," was a 2013 RITA® finalist in romance novella, and What Ales the Earl, the first book in the Widow's Brew series, is a 2019 RITA® finalist in short historical romance. Two of her books—The Naked King and Bedding Lord Ned—made ALA Booklist's 101 Best Romance Novels of the Last 10 Years: 2017 Edition. Many of her books are available in audio format, and her stories have been translated into Czech, French, Indonesian, Japanese, Norwegian, Portuguese, Romanian, Russian, Spanish, and Turkish. 
Sally graduated with a B.A. in English from the University of Notre Dame in the first class of women. She's a Cornell Law School dropout, former federal regulation writer, recovering parent volunteer, mother of four (and grandma to three), and middle-of-the-pool Masters swimmer. She loves to travel, especially to England to research historic sites and hike through—and frequently get lost in—the English countryside.
A native of Washington, D. C., she lives with her husband in suburban Maryland, not far from her childhood home.
Sally is represented by Jessica Faust at BookEnds, LLC
For publicity and review copies:
Kensington Publishing Corp.